Tekniikka ja suunnittelu
·
Masala
·
Joustava etätyö
Service Engineer, Automation, Picosun
Interested in working hands-on with industrial automation and learning the fascinating field of ALD processing from a customer perspective?
Service Engineer, Automation – Picosun
Do you have a degree in automation? Are you eager to work at a demanding customer interface? Do you value collaboration, support, and opportunity to grow your knowhow and skills? If you also enjoy the international environment, this Service Engineer position might be well suited to you.
Success is created together
We are a knowledgeable ALD specialized organization, whose passion is innovation. We work every day in an ambitious ambience and we do not fear to do things differently. We want to be the best ALD-partner in the world. We value teamwork and collaboration, because we believe success comes from working together.
Our Picosun family is worldwide and we think highly of our global network, which includes our employees, sales representatives, distributors, service partners, customers and collaboration partners. Our versatile community is unbuttoned and flexible, and we welcome new members with an open mind. We can offer you a challenging and versatile job in a dynamic, fast developing high-tech company with a supportive team and innovative spirit.
Step forward and join our Picosun family.
Work as a Service Engineer
As a Service Engineer you will work as a part of Picosun's Service team. Your main duties will be modifications and maintenance of existing systems. You will handle customers' technical assistance and troubleshooting both remotely and on-sites. Most of the troubleshooting will take part remotely, but you will travel about 20-40 days a year. Because of that, traveling will be a part of your work. As a Service Engineer you will have the opportunity to see Europe and other regions and work with world's leading organizations as your customers. Our customers are multicultural and our own employees are all around the globe, so we hope you also value diversity.
You will work in close co-operation with the rest of the service teams in Europe and other regions as well as Picosun's automation designers for product development and customer deliveries. Your work will consist of software modifications and bug fixing of software (PLC) used at customers' ALD systems, preparations of automation parts for upgrades and supporting customers at failure situations. You will work directly in the customer interface.
Are you the one we are looking for?
To be successful in this role you should have a study background in automation and/or electrical engineering and some hands-on experience on electrical/instrumentation systems. Nonetheless, more important than technical expertise is a customer-oriented approach, can-do attitude, being proud of your work and willingness to maintain and develop your craftsmanship. Good communication and interpersonal skills will help you succeed with our customers. You should have both the ability and desire to work on the field with direct customer contacts.
Recent experience from automation system manufacturers and different development environments and PLC troubleshooting skills are mandatory in this task. We are looking for a person who gets excited about challenges rather than fears them. We also appreciate your ability and willingness to work hands-on with systems.
We use English in our daily communication, so Finnish skill is not mandatory. Other language skills are seen as a big asset, as you will work in customer interface.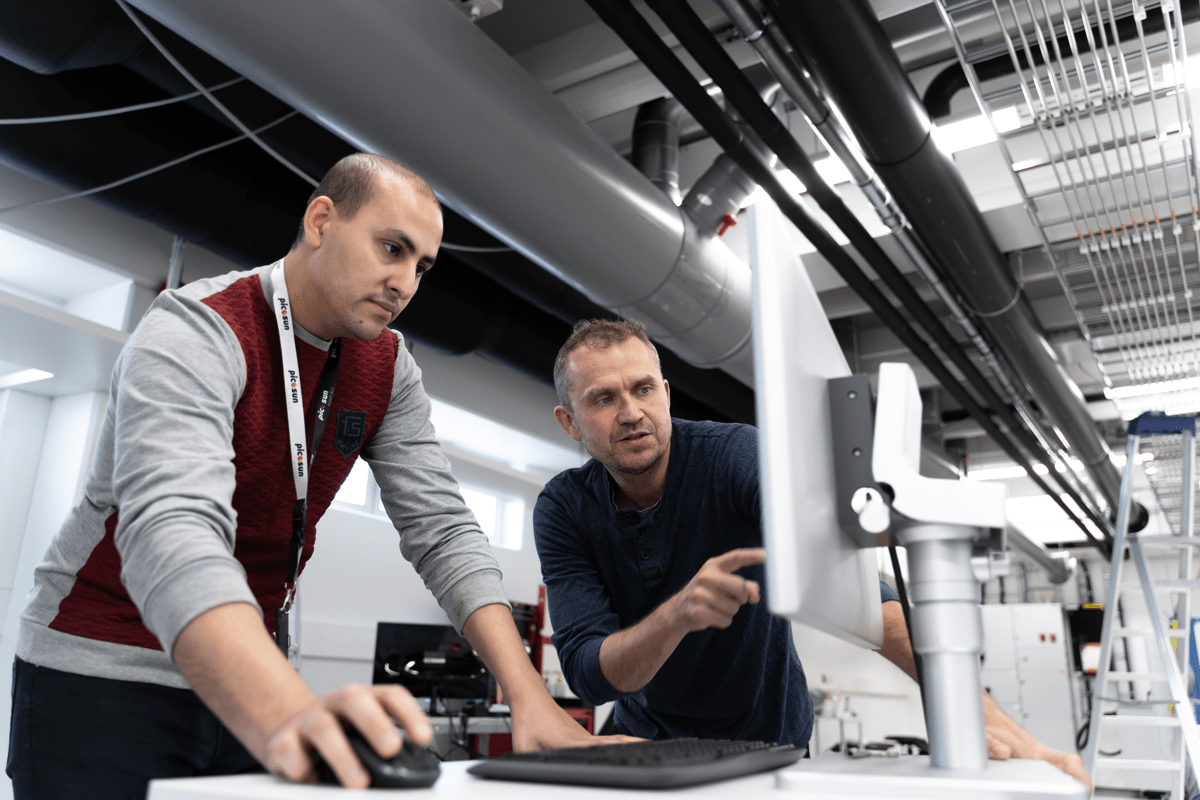 Why choose Picosun?
We are an innovative, rapidly growing, high-tech company that can offer you exciting career and personal development opportunities.
We have a dynamic and international working environment.
We have versatile perks and benefits. At the moment our compensation package consists of base pay + bonus program and a benefits plan (e.g., lunch compensation, occupational health care, accident insurance which covers you also during your free time and ePassi flex benefit which you can utilize based on your own preferences (sport/culture/public transportation/wellbeing). Your working hours are flexible and in many positions it is also possible to work partially remotely.
Are you ready to be a part of Picosun's team?
To submit your application for this position, click the button below no later than 2.10.2022. The starting time for this position can be negotiated when the right person has been selected. The workplace is located in Masala, Kirkkonummi.
You may contact Tiinaleena Anttila from Choice (tel. +358 50 386 9841, tiinaleena.anttila@choicehr.fi) for additional information. The recruitment is done in collaboration with Choice HR.

Toimiala

Sijainnit

Masala

Etätyömahdollisuus

Joustava etätyö

Työsuhteen tyyppi

Kokoaikainen
Tekniikka ja suunnittelu
·
Masala
·
Joustava etätyö
Service Engineer, Automation, Picosun
Interested in working hands-on with industrial automation and learning the fascinating field of ALD processing from a customer perspective?
Hakemuslomakkeen lataaminen